New York City 2022 via Subway
Custom Educational Program
Guaranteed Refund Program
Expedition
5-Day Program: New York City
---
Dates
Aug 26 (Friday) – Aug 30 (Tuesday), 2022
---
Price
Per person price based on occupancy (Land Only):
$1,340 Family Quad
$1,410 Family Triple
$1,570 Family Double
$1,960 Family Single
---
Payment Schedule
10% deposit required upon registration
Remaining balance due in 10 installments: Oct 2021, Nov 2021, Dec 2021, Jan 2022, Feb 2022, Mar 2022, Apr 2022, May 2022, June 2022, July 2022.
Contracted prices are based on group size of 20 or more paying participants per motor coach (55 passengers max.) If the final number of paying participants totals less than the published price, the itinerary will be renegotiated or trip costs increased accordingly.
---
Guaranteed Refund Program
When registering for the trip, you have the opportunity to enroll in our Guaranteed Refund Program (GRP) by selecting the additional CFAR coverage at a nominal nonrefundable premium of $15 per traveler. Opting in is the best thing you can do to protect your investment.
The number one question families ask us these days is "How much refund will I receive if needing to cancel, and how can I be guaranteed the maximum refund?" In response, we created the Guaranteed Refund Program (GRP) so that you can remain confident that your investment is protected even if plans change.
For specific details on this program please visit our Guaranteed Refund Program page. If you want to see the estimated nonrefundable amounts based on your trip cost, refer to the Homeschool NYC GRP page.
---
Attend a must-see Broadway show!
Walk the High Line and the Brooklyn Bridge!
Visit Radio City Music Hall/Madison Square Garden (based on availability) and The Vessel!
Free time to explore different parts of the city like Times Square, Wall Street, Little Italy, Chinatown and Central Park as well as sampling food and taking in some incredible views!
Experience the amazing panoramic view from the Top of the Rock at Rockefeller Center/Empire State Building (based on availability)!
See timeless icons such as the Statue of Liberty and the World Trade Center Site!
…and more!
View and Download Your Itinerary
---
*Your itinerary will evolve as the trip nears and more appointments are confirmed. The itinerary of visits to non-scheduled sites will likely change before and even during your trip. The above link will always provide you with the latest version of the itinerary as it develops.
---
What's Included
Professional General Liability and Errors and Omissions Insurance Policy ($10,000,000)
Premium hotel accommodations
Entrance fees to all program sites and day/evening activities as listed on the itinerary
Full-time professional Academic Expeditions tour educator
All supplemental guiding services
All breakfast and dinners.
All taxes
All gratuities (tour leader included, additional gratuity for exceptional service is always appreciated)
24 Hour emergency access number
Personalized name badges with lanyards
Travel Protection Plan providing coverage for Cancellation, Interruption, Missed Connection, Travel Delay, Accident & Sickness Medical Expense, Evacuation, and Baggage Loss/Delay
Option to add Cancel For Any Reason (CFAR) coverage to your insurance plan and enroll in our Guaranteed Refund Program – cancel up to 48 hours prior to departure and receive 75% of nonrefundable payments or deposits paid to Academic Expeditions, less any refunds provided
*For full details about the travel protection we offer, visit our Insurance page.
---
Not Included
Souvenirs:)
Flights
Lunches
Transportation on first and last days of tour
---
Program Director
Adrian DaSilva, Program Director & Guide
Contact: Email Adrian / c: +1 917-525-9066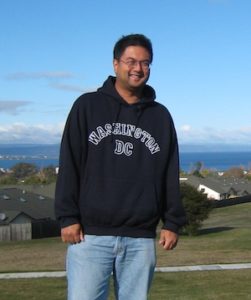 Adrian was born and raised in Hong Kong. With a BSEE and an MBA, he spent time working as a software engineer in Silicon Valley. In between software jobs, he spent 2 years traveling around the US and the world, and that love of travel eventually led him to becoming a tour guide. In addition to being ITMI certified, and having both a DC and NYC guide license, he also speaks 3 languages. His travel experiences on tour include the Eastern Seaboard, the National Parks, the Western US, and Canada. In his spare time, you'll find him helping out at his parish church, hiking, reading, and looking for the best places for ice cream, chocolate, candy, and bubble tea!
Frequently Asked Questions
Because we care. It's as simple as that. Our commitment to quality, integrity, and value is the heart of who we are and what we stand for. The level of personalized attention we provide for our groups sets us apart in this industry and is the number one reason why our schools return year after year. Read more on our Why Travel With Us page.
Safety is our highest priority. We work only with the highest quality vendors and will not run a trip if we feel the safety of our clients and guides is compromised. From full-time staff & logistical support, to 24-hr emergency phone access for all travelers, we've got you covered. Read more on our Standard Tour Features page.
We understand that circumstances can change. We always attempt to work with our clients individually and find the best solutions for each situation. All details regarding our cancellation terms or substitution are outlined in the Terms and Conditions when registering for your trip online.
---